Important Senior Moving Tips


There are so many moving and shipping tips available, including those for senior moving. Senior moving tips are generally the same as general moving tips. Below is a random list of moving tips that we feel would be extremely helpful for any senior planning a move.
Purchase strong boxes; do not use liquor boxes or trash bags.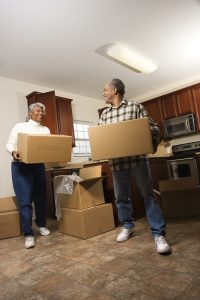 Make sure all boxes are labeled with what is inside and where they will go – storage, senior living facility or donations.
After boxes have been filled, store them next to the front door.
Ask family members to help you take apart furniture that is too large to fit through the door. If you are able, you can start to take apart on your own.
Look into parking at the facility. Will the moving trucks fit in the parking lot? Are there back roads into the facility? These are important questions that moving companies will need to know.
Make sure all items are removed from furniture such as dressers, armoires, buffets, etc. Movers will not move furniture that is not empty.
Disconnect all cable wires, computers wires, etc. before the movers arrive.
o Note – Take a photo of everything connected before disconnecting so you will be able to reconnect once you are moved in.
Moving company pricing:
o Local moves usually charge by the hour.
o Long distance movers shipping large households will charge a flat rate and small local movers will charge depending on the weight and dimensions of the furniture you plan to ship.
o Moving estimates are just that, an estimate. Keep in mind that the following items may cause an increase in your estimate.
Location of the facility – are there back roads and narrow roads?
Reweigh
Narrow steps
Look into moving insurance. Damages happen, so ask questions and find out how much insurance costs and what the payout would be before purchasing it.
When you are ready to move, call Moves for Seniors. Moves for Seniors has been moving seniors for many years and is very qualified. Call today at 1-800-227-0515!