Home / Senior Moving Services / Decluttering
Let us take care of the process so you can enjoy a clutter-free and stress-free home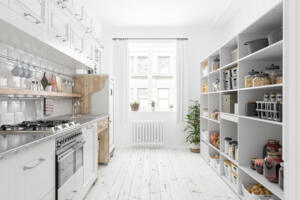 Decluttering can be overwhelming, especially when making decisions about your belongings or assisting elderly parents with theirs. At Moves for Seniors, we understand the challenges, and that's why we specialize in providing top-notch decluttering services. Our goal is to create a more organized living space, which includes expert discarding and donating assistance. Our services include:
Comprehensive Assessment
Our professional organizers will visit your home to assess your space and discuss decluttering goals. Understanding your unique requirements allows us to create a personalized plan for an efficient decluttering process.
Sorting and Organizing
Sorting is a crucial step in the decluttering journey. We'll help you identify items to keep, organize or pack them, and efficiently arrange your belongings to optimize space and functionality.
Responsible Disposal
For items you wish to discard, we take care of transporting them to the appropriate facilities, ensuring responsible and environmentally-friendly disposal.
Donations and Shipments
Items intended for donation or shipment to family members across the country are handled with utmost care. Our team ensures their safe delivery, providing you with peace of mind.