Home / Senior Moving Services / Planning & Organizing
What is senior move management?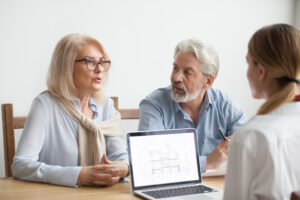 At Moves for Seniors, we provide a range of services such as discard and donation, local moves, long-distance moves, legacy services, and more for all stages of a senior move, and our Senior Move Specialists (SMS) oversee the whole moving process.
Did you know that moving is the 3rd biggest stressor in life? Our mission is to make it easier for you. Feeling lost or anxious when preparing for a move? Check out our guide for 9 ways to ease anxiety on moving day where we provide our insider tips and tricks to have a stress-free move. The number one key to a successful, anxiety-free moving day is preparation, and that is our specialty. We want you to get excited about your new home – so let us handle all the logistics of planning, organizing, and getting you there.
How does senior move management work?
Moves for Seniors offers free in-home or virtual consultations. After we've spoken with you and reviewed your belongings, we will make recommendations so you can select the options that work best for you. Our most popular (and needed) services typically include a combination of the following:
Planning.

Our team works with seniors and/or their families to define goals and set a timeline to get things done. We can create space plans for the new home to identify which items go with you and which do not. Having a strategy early on makes the rest of the process much easier, especially when an expert is guiding the way.

Downsizing & Organizing.

This is the most common first step of the plan. Our Professional Organizers are experts at

senior downsizing

and moving. They will be critical partners to help get all your belongings where you want them – whether that's going with you, being

shipped

to family members across the country, or being

discarded or donated

.

Packing.

Our teams can make sure all of your things are safely boxed and prepared for transport. We'll even bring the supplies. Importantly, your organizer can carefully pack with unpacking in mind - which will make your move-in efficient and easy. This includes packing based on room, function, and/or importance. Boxes will be carefully labeled.
Move Day Management.

When the rubber meets the road, things can get overwhelming! We can arrange for an on-site expert (often your Professional Organizer) who will act as the control center on the actual move day. They will oversee and interact with the movers on your behalf, ensuring the plan is being followed and that your home and belongings are safe. 

Moving.

Whether you are

moving locally

or

across the country

, Moves for Seniors will get you scheduled with a professional team of movers who will load, transport, and unload your items. 

Unpacking/Resettling

. Once everything has been delivered to your new home, we can help set it up. Let us unpack boxes,  dispose of the trash, set up the kitchen and bathroom, and organize closets. It will feel like home in no time and you can enjoy the new surroundings.