Home / Senior Community Moving Services / Risk Management
Manage Risk and Reduce Costs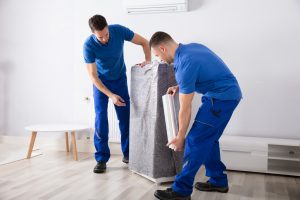 Very often, senior living communities have the need to move furniture, equipment, and other large items for a variety of reasons. Maybe a unit or section of the community is being renovated and the area needs to be cleared or a model apartment has been leased and the furniture needs to be relocated to another unit within the building.
The solutions that many communities turn to are having internal staff move these heavy items, without considering the risk of injury to their employees or hiring a local moving company who may or may not be licensed or hold the proper level of insurance in case they cause damage. Our cost-effective intra-community risk management solutions will help to reduce the operational costs and risks associated with employee injuries and questionable outside labor.
Our senior community services include:
Nationwide flat-rate pricing for community furniture and equipment moving
Our local vendor partners have fully vetted professionals with proper licensing and insurance coverage
Fast turn-around within four business days
Develop a floor plan of your new residence to know what furniture will fit and where it will go.
Sorting through belongings to help figure out what goes to your new home, what may go to family and loved ones, what may be donated to your favorite charity, and what can be discarded.