Moves for Seniors Launches New Website to Showcase Expanded Service Offerings



FOR IMMEDIATE RELEASE – Wayne, PA, April 5, 2016 – Less than one year after rebranding, Moves for Seniors, a division of Transit Systems, Inc. has released a new website to showcase a much broader range of service offerings.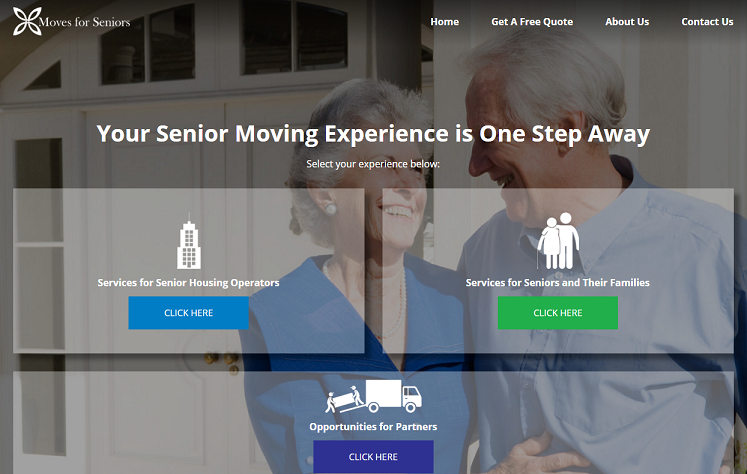 After serving the long distance moving needs of seniors and their families from 2007 through the beginning of 2015, Moves for Seniors began expanding to work directly with operators of senior living communities to service their specialized moving services needs along with offering local moving services to consumers. Currently, Moves for Seniors services more than 300 senior living communities in 43 states across the U.S.
"Taking the focused approach of working directly with senior living communities and offering more extensive local moving services to seniors and their families makes complete sense as we continue to grow", says Chris Pienkowski, Managing Director of Moves for Seniors and Director of Strategic Initiatives for Transit Systems. "The internal benefits for communities that work with us are numerous, including reducing employee injuries and their associated costs. In addition, when these communities refer their new residents to Moves for Seniors they know that the moving experience will be customized to the needs of their residents with the same consistent high quality of service whether that resident is moving in from across town or across the country."
Moves for Seniors is far more than a moving company that simply gets someone's belongings from one place to another. The new and expanded services offer a convenient, single point of contact for the entire array of senior moving needs focused on a personalized approach. Through in-house Senior Moving Specialists, Moves for Seniors guides customers through a process whether they are moving in to a new home or having individual treasured heirlooms and furniture shipped to family members anywhere in the United States.
Additional information about Moves for Seniors can be found online at www.movesforseniors.com, via email at info@movesforseniors.com or by phone at 800-227-0515
About Transit Systems, Inc.
Transit Systems, Inc. (TSI) is a nationwide provider of moving and shipping services to consumers and businesses. Founded in 1989, TSI is licensed by the Federal Department of Transportation and offers a variety of services nationwide. They are available on online at www.transitsystems.com
For media inquiries about Moves for Seniors, contact:
Chris Pienkowski – Managing Director
chrisp@movesforseniors.com
610-535-4909