Newly Published Case Study Covers the Complications of Moving Cross Country to an Independent Living Community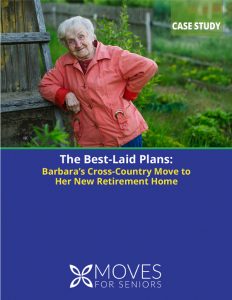 Moves for Seniors just published a case study that focused on a 92-year old woman's journey across the country from her old home in California to her new one at the Whispering Oaks independent living community in rural Pennsylvania. With the help and responsiveness of Holiday Senior Living's Whispering Oaks team, the guidance and move management expertise of Moves for Seniors move specialists and the professionalism of Big Deahl's Movers, she moved into her new independent living home.
There were a lot of bumps in the road that were smoothed out due to the efforts of everyone's teamwork, tenacity and time-sensitive experience working with a senior in transition. Firms that specialize in senior moving don't merely handle logistics. They customize their services to everything each senior needs to complete the transition to their new home. The goal is to provide the senior with a personalized, full-service moving experience—carried out by senior move specialists. The success of this type of complicated, stress-free move sets Moves for Seniors apart from the others, and is why more and more senior housing communities are partnering with us. Click here to read the case study — Barbara's Cross-Country Move to Her New Retirement Home.