Home / Blog / Moves For Seniors Baseball Photo Contest
Moves For Seniors Baseball Photo Contest


Spring and Summer are the perfect seasons to spend the night out at the baseball field! For the month of June, we want to highlight all of you baseball players. By posting your photo (either from your senior living baseball team, your high school baseball team, etc.) to our Facebook page, you enter to win tickets to a local baseball game.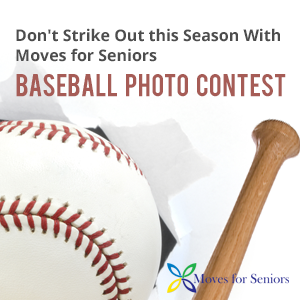 It's as easy as 1, 2, 3 to enter!
Post your (now or then) baseball photo to our Facebook page
Share the post with your Facebook friends.
Ask your friends to VOTE!
We will create a post about our Baseball Photo Contest and then you comment with a photo.  Reach out to your Facebook friends and ask them to vote for your photo.  All they need to do is comment on your photo that they are voting for you – simple!
It's a simple walk down memory lane as you share your baseball photo! Hey and if you want, share a photo of your kid or grandkid – whatever photo you think will win!
What are the prizes?
1st PRIZE – $25 towards baseball tickets to the stadium of your choice
2nd PRIZE – $15 MLB.com gift certificate
3rd PRIZE – $10 MLB.com gift certificate
Click here for the rules and regulations of the Moves for Seniors Baseball Photo Contest.
We can't wait to see all of your old and new baseball photos!!!